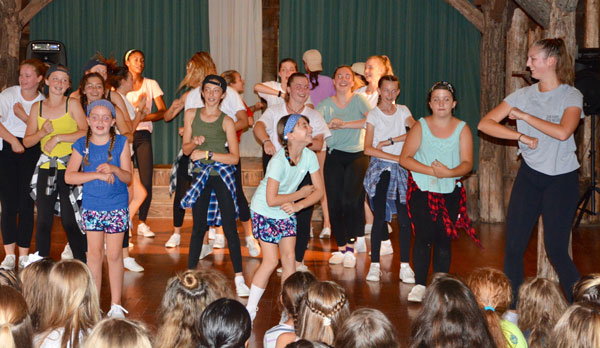 Staff
Senior Staff: We have 8 full-time senior staff members, all with advanced degrees in teaching, counseling, and school administration. Most of our senior staff are former Strawderman campers and counselors and all are part of the Camp Strawderman "family" dedicated to preserving and sharing the Strawderman experience.
Counselors: At Strawderman, counselors must be at least 18 years old and are chosen for their strong character and leadership abilities. Many are former Strawderman campers who have completed a two-year counselor training program as Senior Campers and Counselor Aides. Strawderman counselors are held to the highest standards and many return year after year, building a strong staff of young women who carry on the traditions and values of Camp Strawderman. We maintain a ratio of one counselor to every four campers, thereby ensuring each camper the attention she deserves. In addition, we often recruit counselors from other countries who introduce our young campers to new games and cultural traditions.
Swimming: Our counselors come from a variety of swimming backgrounds ranging from swimming as a Strawderman camper to competitive school programs and college swim teams. Every Strawderman swim instructor is Red Cross Lifeguard certified (or the equivalent international certification). Swim instructors teach campers of all levels on a daily basis. Instruction includes basic strokes, water safety, water sports, and  – for the advanced swimmers – water stunts and synchronized swimming. We have a ratio of no more than ten children to one lifeguard and no camper is allowed in the pool without a lifeguard present.
Riding: Strawderman riding instructors come with a variety of experience on the flat or over fences – from first-hand riding experience as a Strawderman camper, to competitive collegiate riding teams, to international equestrian programs. The counselors thoughtfully design their daily class lessons to give all riders the opportunity to learn and improve throughout their stay at Strawderman. Of course, an element of fun is also present, especially on game days! Our riding counselors love "everything horsey" and hope to spark that love in the campers.
Infirmary: A qualified RN is on site 24 hours a day to meet your daughter's health needs. In addition, emergency facilities are readily available at Shenandoah Memorial Hospital in Woodstock, Virginia. There is also a Nurse Practitioner available for appointments as needed. Click here for pertinent and important Health Care information and requirements.
Please note: All staff members must fill out an application and be interviewed.